Usually I only get round to working out guitar tabs and notation on request, so let me know if there are others you wish to have transcribed and I'll see what I can do. I try and get an accurate representation of my playing as shown on Youtube. I don't think you can get these tabs or notation anywhere else! Please note the key information is a midi powertab file which will enable you to play the tab in midi so you can both see and hear the guitar notes as they are plucked! See video of a midi powertab sample below to show what I mean.
The midi tab file is played on 'Powertab Version 1.7' (for PCs only) or 'Tuxguitar ' (for both PCs and MACs). These are freely available tab writing software programs that allows the notes to be played back in midi so you can hear the tab. The speed can be slowed for learning as well. For Apple Ipads and Iphones 'TEFview' is a free app which also plays the .ptb midi file.
Some customers have asked for a discount for multi buy. Now I have more tabs up, I offer two special deals.
1. Buy three tabs and get one free!.
2. Buy six tabs (this includes my "Ian Entwistle" website https://www.ianentwistle.co.uk) and get four free!.
Just contact me after completing your purchase(s) to say which are the extra tabs you want. (For previous customers I don't want you to lose out!. This is a cumulative offer. Just remind me which ones you have already bought.)
Two of the four files are simple tab .html and .doc files which can be read in a web browser or word processor. The third file is a midi .ptb powertab file (as shown in the above video). Powertab software can be downloaded from http://www.power-tab.net/guitar.php. The final file is a .pdf file which is read in Adobe reader software and shows both tab, notation and the words. Note if you have a MAC computer then TuxGuitar software also opens the .ptb midi file but without any words. TuxGuitar is freely available. The version which requires downloading depends on whether your MAC has a 32 bit or 64 bit processor. If you have an Ipad or Iphone then the .ptb midi file can be opened with a free app called 'TEFview' but without any words.
A typical pdf file (part of) is shown below. If you just want the pdfs and not the whole zip file with midi .ptb etc. please go to the shop at https://thesongsofjamestaylor.co.uk/shop-pdfs-only/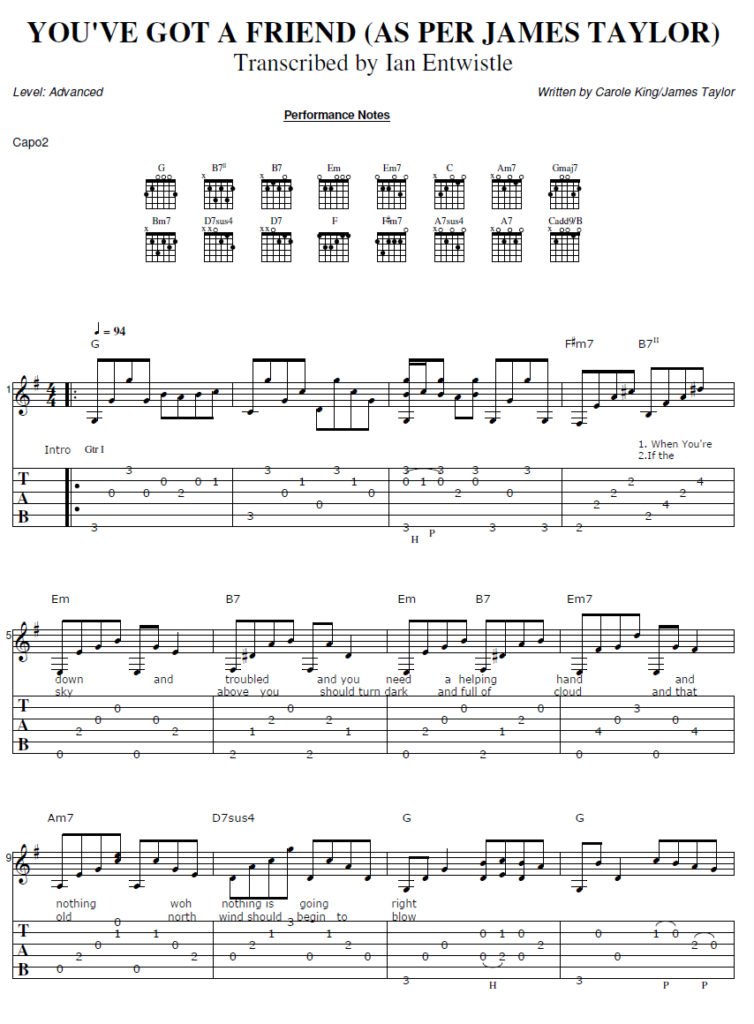 A typical doc/html file (part of) is shown below.